Era 100

Featuring next-gen acoustics and new levels of connectivity, Era 100 transforms any room with the finely tuned stereo sound and rich bass your music deserves.
---
---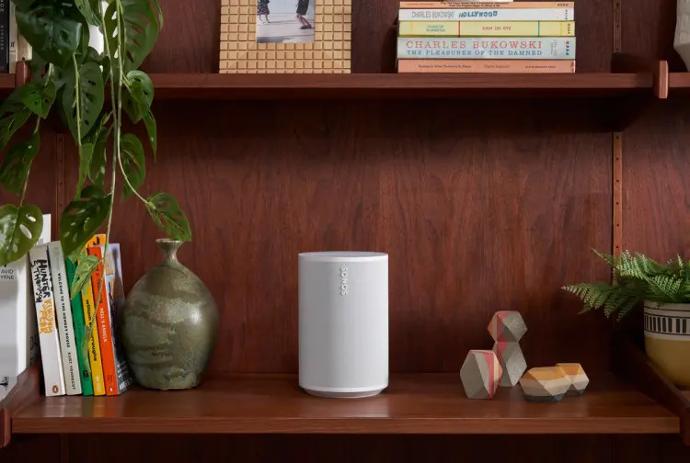 Minor scale for major versatility
---
Place this speaker anywhere and everywhere you want to listen. The compact design fits beautifully on your bookshelf, kitchen counter, desk, or nightstand.
Tunes itself for 
you.
---
With a tap in the Sonos app, Trueplay™ tuning technology analyzes the unique acoustics of your space and optimizes the speaker's EQ. So all your content sounds just the way it should.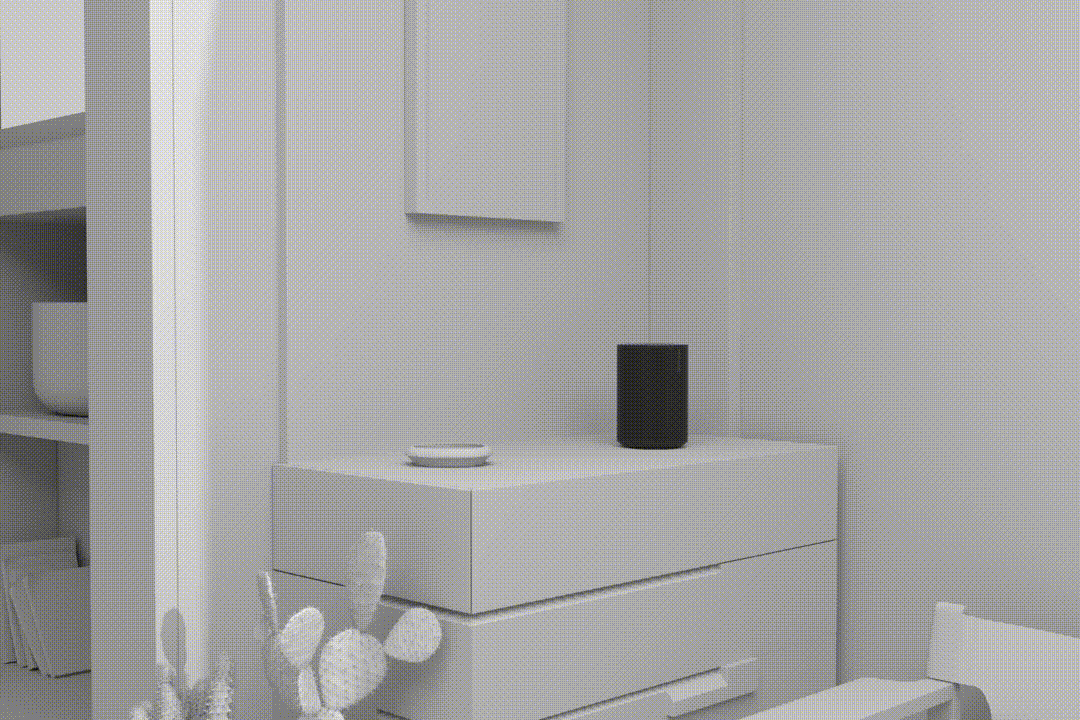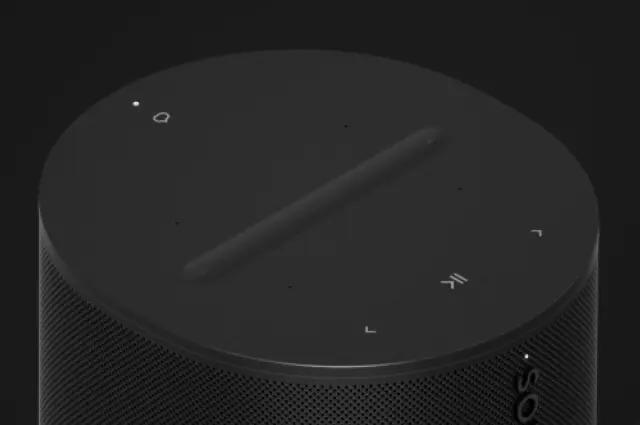 Privacy with a tap
---
Deactivate your voice assistants by tapping the speech bubble on top of the speaker. The light will also turn off. You will still have access to other mic-enabled features, like Trueplay.
Security with a switch
---
Make sure no one accidentally activates your voice assistant by toggling off the switch on the back of the speaker. This disconnects all power to the microphone hardware for added security.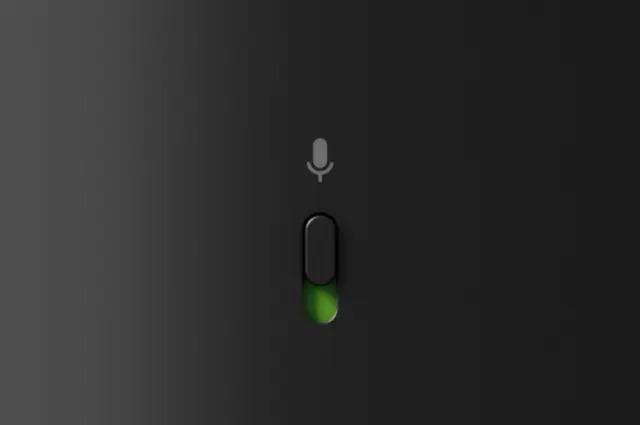 Audio Specs
Amplifiers
Two Class-D digital amplifiers have been perfectly tuned to the speaker's unique acoustic architecture.

Tweeters
One tweeter creates a crisp, high-frequency response.

Midwoofers

One midwoofer ensures faithful playback of mid-range frequencies and maximises low-end output.

Microphones
The far-field microphone array uses advanced beamforming and multi-channel echo cancellation for quick and accurate voice control.

Adjustable EQ

Use the Sonos app to adjust bass, treble, and loudness.

Trueplay

This software measures the acoustics of the room then fine-tunes the speaker. Supported iOS device required.
Other Specs
WiFi
Connect to WiFi with any 802.11a/b/g/n 2.4 or 5 GHz broadcast-capable router.

Ethernet
10/100 port for hardwiring to your router

Voltage
100-240V 50/60Hz internal power supply

Apple AirPlay 2

Works with AirPlay 2 on Apple devices iOS 11.4 and higher
Voice
Works with Amazon Alexa and Google Assistant
Dimensions
Height: 162 mm
Width: 120 mm
Depth: 120 mm

Sonos app
The latest generation of the Sonos app running on a compatible device
Power Source
Nearby electrical outlet

FAQ
Where should I place Era 100?
Designed for versatility, Era 100 fits almost anywhere, including enclosed spaces such as a bookshelf. It's also humidity resistant, so you can place it in the kitchen or on a covered patio. If you prefer to save surface space, you can use the custom designed Sonos Era 100 Wall Mount or Sonos Era 100 Stand. These accessories are also great options if you are using a pair as rear speakers for home theater surround sound.
Does Era 100 support stereo pairing?

Yes. For an even wider soundstage, you can pair two Era 100 speakers in the same room. These can also be used as rear speakers for surround sound with Arc, Beam (any generation), or Ray. Era 100 will not bond with Sonos One, One SL, or Play:1. Refer to https://support.sonos.com/article/create-a-stereo-pair for more information.
What soundbars will pair with Era 100 for surround sound?
You can connect two Era 100 speakers with Arc, Beam (any generation), or Ray for surround sound. Era 100 is not compatible with Playbar or Playbase.
Which subwoofer should I pair with Era 100?

We recommend pairing Era 100 with Sub Mini or Sub. All generations of Sub are compatible.
Can I experience Dolby Atmos with Era 100?
As a standalone speaker, the acoustic architecture of Era 100 does not support playback of spatial audio content. For those who want to enjoy content in Dolby Atmos, we recommend Era 300. When paired with Arc or Beam (Gen 2) as rear surrounds, two Era 100 speakers will support playback of Dolby Atmos content.
Can I use Bluetooth as soon as I plug in the speaker?

Era 100 must first be set up on WiFi using the Sonos app. Following setup, you can easily pair a Bluetooth device by pressing the button on the back of the speaker. Please note that if you use a pair as rear speakers for home theater surround sound, Bluetooth will be disabled.
How do I use Trueplay™ to tune Era 100?
The Trueplay tuning experience differs slightly for Android and iOS. With an Android device, Trueplay relies on the microphones of the speaker. With an iOS device, you have the option to use this Trueplay method (referred to as "quick tuning" in the Sonos app) or the traditional method (referred to as "advanced tuning") which uses the microphones in your iPhone or iPad and requires you to move around the room. Please note that if you use a pair of Era 100 speakers for surround sound with your Sonos soundbar, Trueplay will require a supported iOS device. Refer to https://support.sonos.com/article/tune-your-sonos-speakers-with-trueplay for more information.